BESPOKE BENCHMARK
Optimising resources for the greatest impact

FIND OUT MORE
How do risk leaders leverage a limited number of risk resources through planning and prioritisation?
Fill in the form to request to see the benchmark we created in response to this priority raised by a Risk Leadership Network member.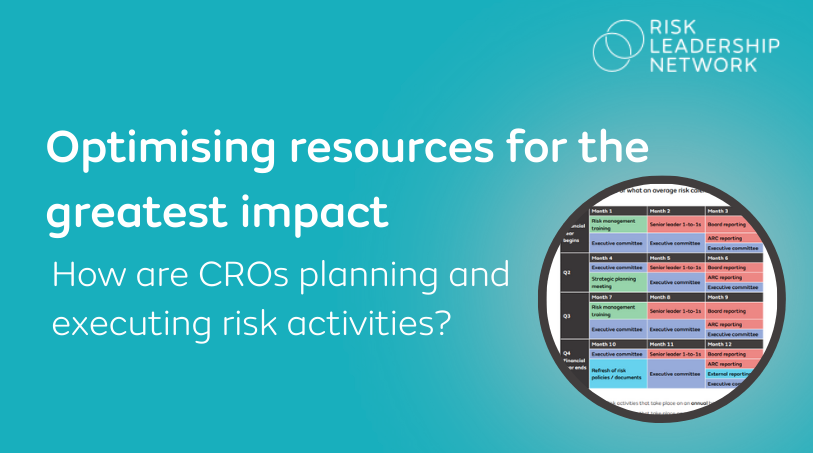 This bespoke benchmark gives you in-depth insight from eight large organisations with small centralised teams to explore:
How are risk leaders organising their calendar of activities?
To what extent are ERM teams aligning their activities with those of other functions?
Which risk-related activities are risk leaders are prioritising when developing a calendar?
How can risk leaders make the most of limited resources, as a small, centralised team, to have the greatest impact on the business?
What areas do risk leaders and their teams want to prioritise in the next three years?
*Subject to qualification. We're only able to show this data to prospective members - in-house corporate risk leaders at large non-financial institutions in Europe, MENA and Asia-Pacific. We'll send you a meeting invite so we can explore the results with you and provide more context.
Fill in this form to request see the benchmark*
FAQs
Who has taken part in the benchmark?
Eight CROs/heads of risk at eight companies, ranging in size and sector but with a common challenge: leveraging a limited number of risk resources through planning and prioritisation. Each company has a small, centralised enterprise risk team.
Use of a calendar to organise risk activities - do companies use them, who is responsible etc?
Three different approaches to using a calendar
Aligning risk calendars with other business functions
Prioritising activities - and a look at how risk calendars are presented
Analysis of the drivers of risk activity: top-down vs bottom-up
How to maintain flexibility with risk calendars
Shared insights from small centralised teams with limited resources on how to make the most impact
Agility vs structure: how risk leaders are finding the right combination
Priorities for the next three years, in terms of allocating time.


How was the data collected?
We surveyed risk leaders at eight companies across a range of sectors, asking a series of closed and open-ended questions.
Why did you create this benchmark?
We developed this benchmark to support a member on their specific risk priority: how do small, centralised enterprise risk teams leverage their limited resources through planning and prioritisation?
Do you have any other benchmarks?
Yes, we regularly create benchmarks or pulsechecks in response to our members' priorities. Take a look at some of our latest benchmarks here. Through our bespoke, concierge "network assistance" service, we deliver these niche reports in a timely way to meet the exact needs of the organisation who requested it. Of course, the benchmarks are often useful for other organisations too and we share the results. If you'd like us to create a benchmark for your organisation, please fill in this form and we'll get back to you with a time-frame and membership proposal.
How do I get hold of this report?
Please fill in the form and we'll present the key findings to you*, and discuss how our members are leveraging the data in the report to operationalise and accelerate ERM better practice.
Due to the high value data in the report, we only send the report to members of Risk Leadership Network.
*Subject to approval. We're only able to meet with you to show you the data if you're a prospective member (i.e. a practising risk leader at a large non-financial organisation in Europe, Asia-Pacific or MENA).
Can Risk Leadership Network carry out a benchmark for me?
Yes. Members of Risk Leadership Network work with a network manager to make sure we meet your risk priorities. If there's an informal benchmark that would assist you in your priorities, we'll create it for you in a timely manner. Most benchmarks are complete within 8 weeks of request. Tell us more about the benchmark you need and we'll get back to you with timescales and a membership proposal.
Back to top