Request a demo
Horizon Scanning Tool
Our dedicated Horizon Scanning Tool collates information from data-rich sources on over 600 emerging risks, enabling members to identify and analyse emerging risks that may be applicable to their businesses.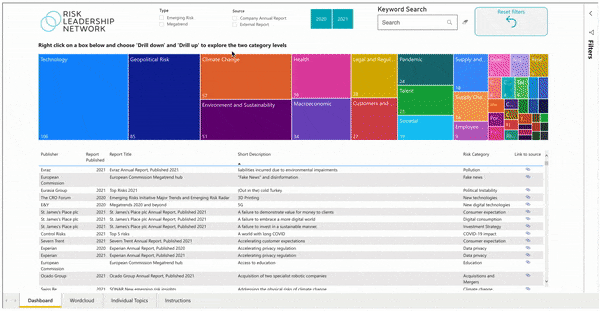 Horizon scan by risk category
Drill down into 42 categories and 106 sub-categories to explore the latest emerging risks highlighted by prominent global reports and leading consultancies, as well as company annual reports featured in our Risk Reporting Comparison Tool, diving into the original sources with one click for more detail.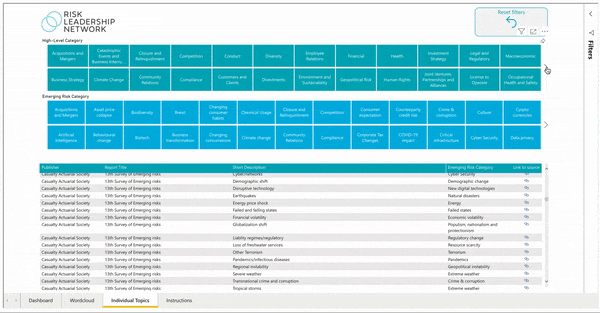 Explore risks and megatrends by topic
Easily identify and analyse emerging risks relevant to your organisation by jumping into key topic areas and exploring the latest information, taking advantage of careful categorisation applied by risk experts from across our network.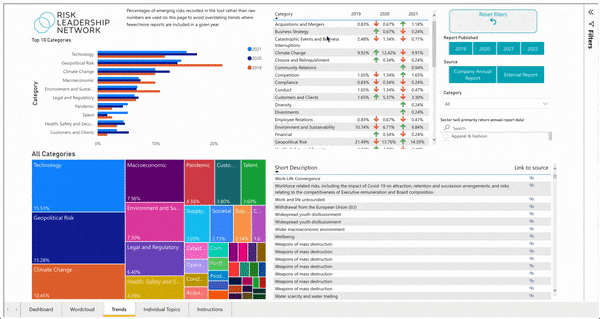 Analyse emerging risk trends
Use the trends dashboard to determine the top risks faced by companies during the last three years and analyse the evolution of emerging risk priorities over the same period.
FAQs
Why is emerging risk a topic of concern for risk leaders?
There are plenty of challenges for risk leaders who are tackling the process of horizon scanning and who want to be confident that they are identifying the correct threats and opportunities. This is because emerging risks, by their very nature, are hard to define and are "out there" in the distance.
Emerging risk has become a much bigger focus for companies in the wake of the pandemic, and we have received feedback from members that they are very interested in trying to work out what is on the horizon.
How does the tool help members solve these problems?
The emerging risk tool collates information that would otherwise take members a long time to put together, and presents in an accessible, easy-to-understand format – users can either employ the tool to complete a brief scan of relevant data, or drill down further to focus on the detail they are really interested in.
Who might be interested in using this tool?
For risk managers who are new to emerging risk and are just starting to build up their organisation's horizon scanning capabilities, the tool represents a good starting point. Equally, experienced risk leaders can use the tool to find the data they need quickly, saving time and resources.
How are the emerging risks highlighted in this tool gathered in one place?
Some companies (although not all) include emerging risks in their annual report. We feed the data from these reports into the tool, along with emerging risks highlighted in reports by associations, consultants and global organisations (e.g. the World Economic Forum or the European Commission). When then use natural language processing tools to align risks with a particular category.
How does the tool demonstrate trends in emerging risks?
We added the Trends tab at the end of 2021, based on requests from members. This section of the tool allows users to see how emerging risks are changing over time.
For example, geopolitical risk was an especially hot topic in 2019, and while it is still being highlighted a lot by businesses, it has become less prominent compared to other risks since then.
There are also options to filter by year and source (e.g. company report or external report) to provide a more focused view of emerging risk trends.
Are any new features or updates to this tool planned, and how will these help members to go further in their emerging risk identification process?
As with our other tools, we are looking at expanding their geographic scope to include companies in the Middle East and other regions.
Another option we are considering is to focus more closely on the top five emerging risk categories, adding more detail on these specifically so that members have all the data they need to make their own horizon scanning and reporting processes as effective as possible.
Back to top